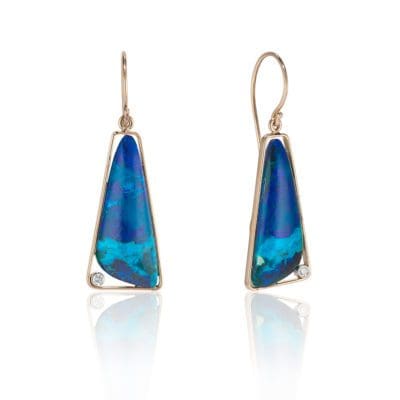 Malachite and Azurite Earrings
Designer
Brown Goldsmiths
About This Piece
Nature at its most glorious is reflected in the gorgeous mix of deep green Malachite and cerulean blue Azurite of these earrings. Malachite is known to have positive and transformational meaning, while Azurite can enhance creativity and wisdom. The contrasting shades of blue in Azurite come from its fusion with Malachite, a closely related mineral that contains almost the same chemistry.
Stunning, unique, and modern easily describe this 14k yellow gold pair. Each has a bezel set diamond accent and measures 1.75″ from the top of the french wire. These beauties are getting a lot of attention in the store and were lovingly designed and created in our upstairs workshop. #393461
Pay us a visit in our showroom located in the heart of the Freeport Outlets to see this pair or continue shopping earrings.
Pssst…don't forget to ask us about our Earring Club!