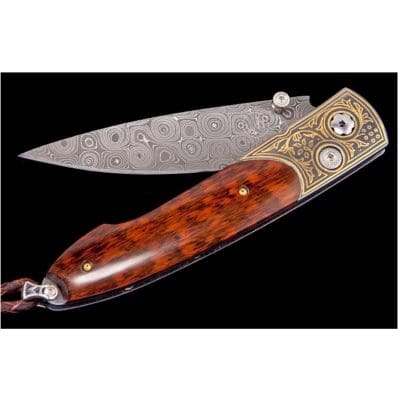 About This Piece
LANCET OVERLOOK
B10 Overlook edition 192 of 250
The Lancet 'Overlook' features a mesmerizing frame in 24K gold Koftgari (the ancient Indian technique of inlaying gold and/or sterling silver in tool-steel), inlaid with snakewood. The blade is hand-forged 'Raindrop' Damascus by Mike Norris; the one-hand button lock and the thumb stud are set with white topaz.
Sleek, elegant, refined, and comfortable in the hand and to the eye, the Lancet defines the essential gentleman's folder in the modern world.
The 'Overlook' features some of the exotic materials, artistry and hand-forged metals that are the hallmark of William Henry's collections; a timeless heirloom to be proudly worn and used for a lifetime before being handed-down to another generation.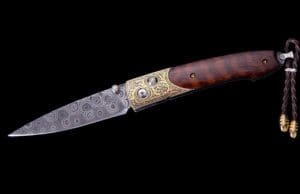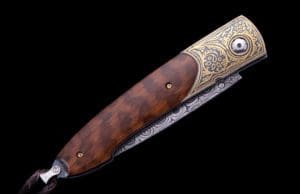 FEATURES & SPECS
One-hand button lock system
Leather carrying case
Shipped in an elegant wood presentation box
Dimensions:
Blade 2.75″ (69.9mm)
Handle 3.63″ (92.2mm)
Overall open 6.38″ (162mm)
KOFTGARI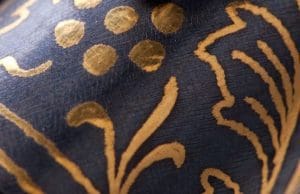 Koftgari is the name for fine gold (and/or silver) patterns inlayed into parkerized steel. This ancient Indian technique, done entirely by hand, involves creating a very fine cross-hatch grid in the steel and then burnishing 24K gold (and/or silver) into a pattern that is bound by the cross-hatch. Parkerizing involves soaking the steel in a boiling solution of salts to oxidize the steel a deep brown/blue. Beautiful and timeless, koftgari is nearly a lost art.
William Henry's koftgari comes from 2 small villages in India, home of the very few Indian artisans that still master this technique. For more with Koftgari see our Cabernet Spiral rollerball pen.
SNAKEWOOD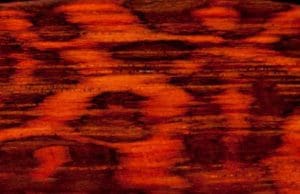 The name "snake wood" was clearly inspired by the snakeskin-like markings that decorate this exotic wood originally found in Western Australia. Extremely hard and heavy, it is one of the most expensive woods in the world. We use only the finest snakewood, responsibly sourced from Suriname, chosen for outstanding color and pattern. All William Henry's snakewood is resin-stabilized for durability.
WHITE TOPAZ
Topaz is a rare, extremely hard gemstone with an exceptionally wide color range that, besides brown, includes various tones and saturations of blue, green, yellow, orange, red, pink, and purple.
The ancient Greeks believed that topaz gave them strength. In Europe during the Renaissance (the period from the 1300s to the 1600s) people thought that topaz could break magic spells and dispel anger. For centuries, many people in India have believed that topaz worn above the heart assures long life, beauty, and intelligence.
Today, topaz is one of the US birthstones for November, while blue topaz is a birthstone for December.
Visit us in our
Freeport, Maine showroom
to see our full collection of William Henry gifts including Pens, Knives, Money clips, and Men's Jewelry.