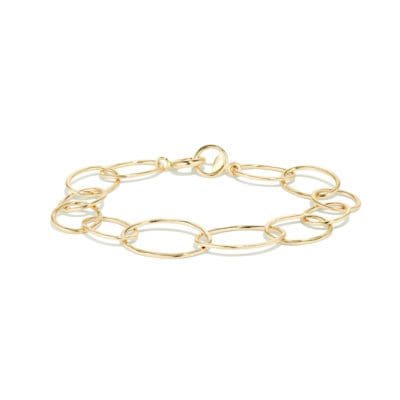 Hammered Link© Bracelet
Options
Available in 18 karat yellow gold, 14 karat yellow, white or rose gold in any length.
Price
$1,485.00 8" 14K yellow gold
Designer
Brown Goldsmiths
About This Piece
Handmade link with an array hand-fabricated oval and round links create necklaces and bracelets. The 14k yellow gold handmade Multi Link bracelet is 8″ long. Hammered for casual elegance, they go just about anywhere, for just about any occasion. Each piece includes a playful mix of ovals (approximately 1″ x 1/2″ , 1/2″ x 3/4″) and rounds links, (approximately 1/2″ diameter).#220688
Hand made in Freeport, Maine
The hammered link is fun and versatile. Worn alone, layered, or linked together to give a longer look. Also see our Hammered Link Necklace or visit  our  Freeport, Maine showroom.