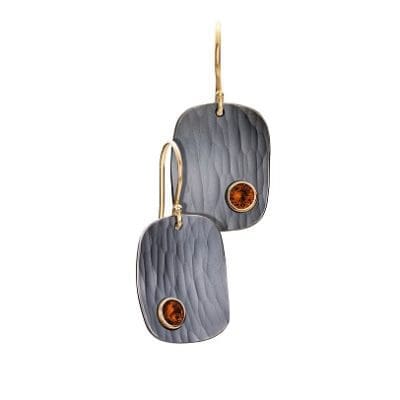 About This Piece
The Metolius Crest Earring design is the inspiration of the Metolius River in Oregon. Opals are seductive and emotional stones. The intense red orange color of these 4mm "Fair-Mined" 14K yellow gold bezel set Mexican Fire Opals are no exception. They nicely pop against the matte black EcoSilver crest designs. Approximately one inch in length, we carry this special design of Metolius Crest Earrings with an assortment of gemstones. #265562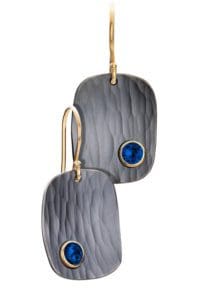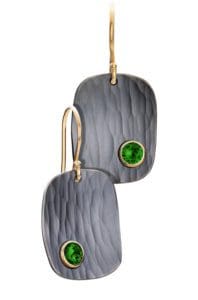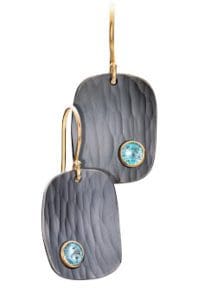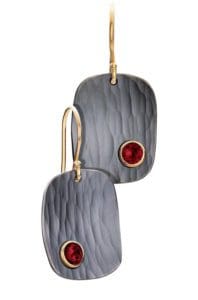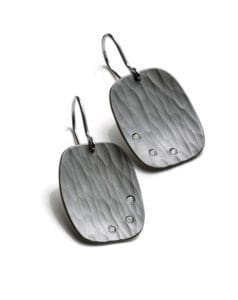 In 2006 Toby Pomeroy sparked a revolution in the jewelry industry by creating a line of recycled metals. It all began while Toby was fly fishing for steelhead in a favorite Oregon coastal river, and had a thought: Why not ask my refiner to purify previously used scrap gold and silver separately from newly mined metals, then create jewelry from these reclaimed metals, giving my clients ethically sourced gold and silver?
The result was "EcoGold", and "EcoSilver". As well, Toby Pomeroy uses jewels that are exclusively sourced from suppliers with transparent supply chains. These exquisite precious and semi-precious gemstones are mined and faceted in facilities that pay living wages, and promote the health and safety of all workers.
This wonderful Metolius Crest earring collection is a fine example of recycled metal, fair-mined jewels, and old world craftsmanship methods that make Toby Pomeroy so unique. They have embraced beliefs that we here at Brown Goldsmiths truly feel to be important, and because of this we are very proud to offer not simply the Metolius Crest collection, but much, much more.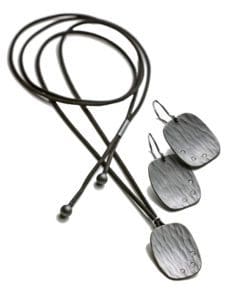 The Metolius Crest earrings can be paired with a matching pendant, and even this spectacularly simple Metolius Glint Band.
Pay us a visit in our showroom located in the heart of the Freeport Outlets to see this pair or continue shopping earrings.
Pssst…don't forget to ask us about our Earring Club!