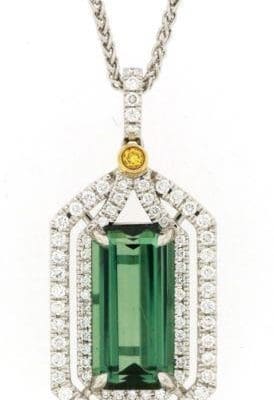 Emerald Cut Green Tourmaline Necklace
About This Piece
Emerald Cut Green Tourmaline Necklace – An elegant one-of-a-kind.
Vault Sale Special: This elegant Emerald cut green tourmaline is surrounded by a double halo of diamonds. This stunning one-of-a-kind necklace was originally $8095. As a Vault Sale Special this necklace is being offered, online only, at the reduced price of $7285.50. Set in both 18k white and yellow gold this necklace also has the extra special feature of a bezel set natural yellow diamond. Complete with an 18″ long chain of 18k white gold. #393518
Rich color, unique design and ready to wow!
Visit our showroom nestled in the heart of the 

Freeport, Maine

 outlets or browse more

necklaces.

Tourmaline –

Although green is the most common hue, tourmaline naturally occurs in virtually thousands of shades, tones and color combinations—more than any other gemstone. One of the most distinctive features of tourmalines is pleochroism, the presence differing colors or depths of color when the gem is rotated. Because of its strong pleochroism, tourmaline is especially adored by skilled lapidaries, who can cut the gemstone in such a way that it appears multicolored.

Tourmaline occurs throughout the world. The United States has been a major contributor to tourmaline's popularity. During the early 1900's, Maine and California were the world's largest producers of gem tourmalines. California is known for pink tourmaline and Maine is known for sherbet-colored and mint green-colored tourmalines. Today, Brazil produces the largest volume of this gemstone, as well as the widest color variety for a single location. Nigeria has also seen recent production of tourmaline in unusual colors and sizes. Regions of lesser tourmaline production include Afghanistan, Pakistan, Kenya, Tanzania, Madagascar and Mozambique.