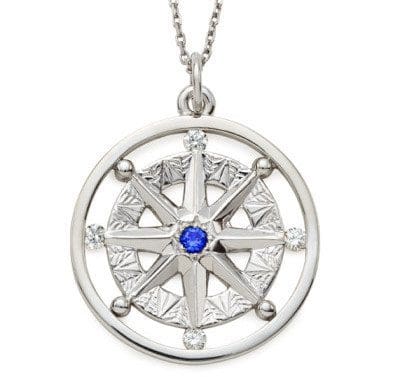 The Compass Rose© Sapphire and Diamond Pendant
Options
Also available in 14 or 18k yellow gold. "One-of-a-kind" possibilities.
Designer
Brown Goldsmiths
About This Piece
The Compass Rose is a timeless reminder of guidance, direction, and finding one's way. Gold and/or Diamond spacers connect the Compass Rose with its simple frame. Shown with a blue sapphire set in the center and diamonds set at the North, East, South, and West points. This 14k white gold pendant measures approximately 7/8″ in diameter. #090982
Also available is our Spin Bracelet in this white gold, Sapphire and Diamond combination at $2675.
The Compass Rose collection is crafted in our upstairs studio in three different sizes of earrings, pendants, charms. Due to the interest in the design we added our uniquely crafted "Spin" bracelet and now the newest addition to the collection is the Compass Rose ring.
Chain sold separately.