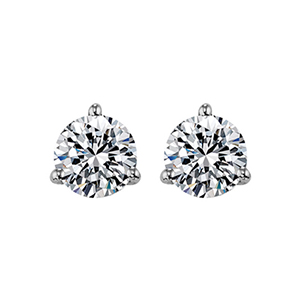 Diamond Stud Earrings in White Gold
About This Piece
Diamond studs add a subtle note of beauty, and an alluring touch of sophistication to anyone wearing them. These classic three-prong martini style earrings are no exception. If you are looking for a more interesting pair, we have a variety of shapes, prices, and sizes or pair with an earring jacket.
We are thrilled that our diamond stud portfolio has grown. In our showroom currently…
All 3 prong in 14k White Gold:
.20 carat weight – $375
.30 carat weight – $550
.40 carat weight – $699
.50 carat weight – $999
.60 carat weight – $1375
.75 carat weight – $1750
3.0 carat weight – $15,295
Explore more diamond stud options in platinum.
Pay us a visit in our showroom located in the heart of the Freeport Outlets to see our variety of Diamond Stud Earrings or continue shopping earrings.
Pssst…don't forget to ask us about our Earring Club!