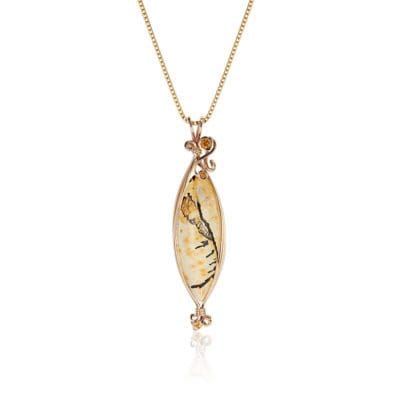 Agate Pendant with Yellow Sapphires
Options
If you dream of a specific design we can help you make it come to life.
Designer
Brown Goldsmiths
About This Piece
Agate is thought to have many emotional and physical healing properties, as well as balancing and spiritual energies. This Dendritic Agate design is a custom hand crafted tribute to the beauty of nature.
Dendritic Agate is sometimes called" Tree Agate" because it is usually colorless, white, or gray. It has tree- or fern-like inclusions of iron or manganese, called dendrites.
Organic swirls of 14K gold and sunny yellow sapphires compliment our specimen beautifully. This is a stunning statement piece at just over 2.5 inches long and a bit over a 1/2 inch wide.#393488
Explore more of the treasures we create in our upstairs workshop.
Planning a trip to the Freeport outlets or Maine coast?  Come see them in person at our Freeport, Maine location.