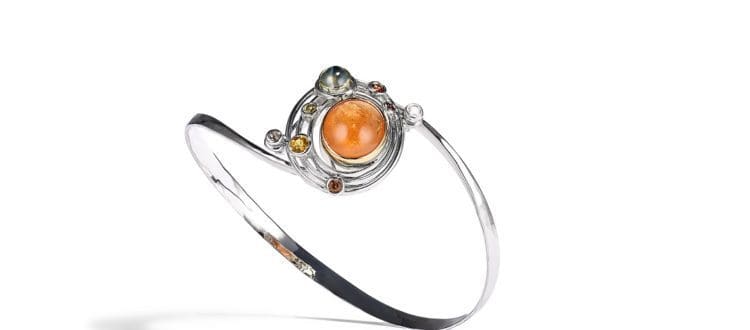 Custom Jewelry – Our specialty
Custom Jewelry –
Collaboration. Custom surprises. Creative Clients. These are a few of the pleasures we get from our work.
This piece was a custom jewelry surprise, created for Miss B from Mr. M.
Besides the fun of keeping secrets, custom work provides us with technical challenges and opportunities to problem-solve, making every day a fresh learning experience. First, we had the challenge of finding a perfect gemstone. In this case, yellow Sapphire (despite Sapphire being her birthstone) wouldn't do. Our client was looking for more sparkle in this proportionately petite pendant. We worked with him to select a natural fancy orange-yellow diamond.
Designing – and Engineering – were de rigeur. As is our case every day, lots of dialogue was involved. Mr. M loves a jewel suspended en tremblant. We incorporated the meaningful yin yang motif, something Mr. M knew would mean a lot to the recipient.
The collaborative process is truly a privilege. Rare gems and beautiful souls are a combo that is hard to beat. Thank you, Mr. M for including us in Miss B's birthday surprise. Collaboration, Custom surprises, Creative Clients. We love this kind of work. Contact us to begin work on custom pieces for your loved one or stop in to see us in our Freeport showroom, just one block from LL Bean and the Freeport outlets.